KBM - 70 Plus LCD Blood Bank Centrifuge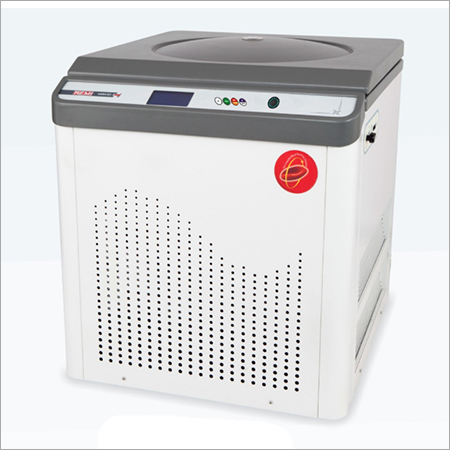 KBM - 70 Plus LCD Blood Bank Centrifuge
Price And Quantity
Product Specifications
Product Description
Keeping in mind the diversified market demands, we are involved in manufacturing, supplying and exporting Microprocessor Controlled Compufuge. To suit the demands of our clients, we offer this compufuge in different sizes. Our professionals design and manufacture this product utilizing qualitative components to ensure its wide use in blood bank centers. Owing to its high operational accuracy, low maintenance, less power consumption, prolonged functional life and durability, offered Microprocessor Controlled Compufuge is acclaimed by our esteemed clients.

Other details:

KBM-70 Plus is a next generation Centrifuge with forward thinking design and technology. It is ideal for small to big size Blood processing center, can spin two different rotors suitable for four double blood bags or six single Blood Bags in oval type carries. Ideal for component preparation from whole blood like packed cells, platelet rich plasma, Platelet Concentrate, Cryoprecipitate and Buffy coat separation, etc.
Advance manufacturing techniques are used for mounting of new Brushless induction drive motor resulting in extremely low level of vibration and noise with smooth acceleration / deceleration. The copper tubes used for refrigeration are Bright Annealed high quality conforming to ASTM B Grade 68.
MICROPROCESSOR CONTROLLER
KBM 70 Plus stores and recalls up to 50 programs, including a sequential program with four sub programs each of which can be programmed with different parameters.
KBM 70 Plus is equipped with 9 Acceleration & 10 Deceleration profiles for smooth & jerk free run for optimum yield under different applications. The advanced microprocessor does self-diagnosis every time at power on with messages appearing in case of any error.
DATA ACQUISITION SYSTEM
KBM 70 Plus has a built in system to store latest 50 data of centrifugation during the processing of Blood Components. The data from the Centrifuge can be transferred to Personal Computer using a RS 232 data interface. This data can also be used for various analyses by Blood Centers.
Salient Features:

Advanced user friendly microprocessor control.
Menu driven 51 program memory.
Sequential program with four sub program.
In built pre cooling programmes.
Self-Diagnosis of errors.
Option to set and indicate RCF.
Simultaneous display of set & run parameters.
Log of latest 50 run records on LCD display.
Real time clock.
Tamper proof password protection.
Safety key lock to prevent unauthorized use.
Data management system through RS 232 port.
Dedicated PC software for data management & analysis.
Brush-less induction drive frequency motor, practically maintenance free.
Safety lid-interlock to prevent cover opening, during centrifugation.
Rotor over speed protection.
Unbalance cut-off with indication.
Speed holding accuracy 100 RPM.
Display of rotor radius.
Choice of 2 rotors.
Technical Specifications

Model : KBM - 70 PLUS
Max. Speed : rpm4500
Max. RCF : g 6000
Width: mm 840
Depth: mm 940
Height : mm 950
Recommended Line Voltage Corrector : KVA 6
Rotor Heads & Accessories
Model

Description

Max. Speed
RPM

Max. RCF.
'g'

K-741

4 Place Wind Shield Swing Out Rotor.







K-743

A set of 4 oval metal carriers with plastic blood bag containers each with capacity to hold two blood bags of 350 ml or 450 ml.

4500

6000

K-711/M

6 Place Wind Shield Swing Out Rotor.







K-713

A set of 6 oval metal carriers with plastic blood bag containers to hold 350 ml or 450 ml Blood Bags.

4200

5230
Trade Information
Cash in Advance (CID)

2-10 Days